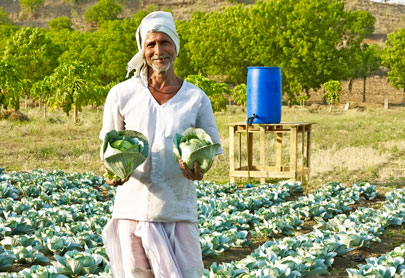 Jain Irrigations journey of "Working with Farmers" continues with a focus on small farmers. Among the small farmers too, majority are without an independent water-source. And their land-holding is less than 1 acre. Such tiny holdings are also fragmented & located in more than one place, independent water-source and electricity is also not available to these farmers.
"Jain DripKit" will address all these constraints and will empower the small farmers with a scientific, durable and simple-to-operate Irrigation System.
The most modern Micro Irrigation System:
"Drip Irrigation System which operates on gravity pressure".
Jain DripKit helps to maintain favourable soil moisture conditions to the plants which results in good growth & bumper yields.
Features and Specifications
Applications