Rainport Sprinkler Systems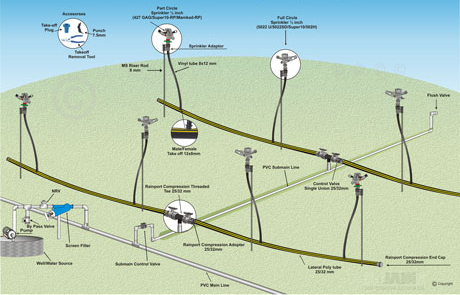 Rainport™ Sprinkler Systems is a mini irrigation system i.e. laterals and sprinklers can be easily shifted from one place to other. Reinstallation of the system is also easy and consumes less time and labour. It overcomes all the limitations of conventional sprinkler irrigation system and yet meets the high standards of effective irrigation principles such as
High distribution uniformity.

Controlled application rate.

Gentle precipitation, low droplet impact on soil structure and no foliage damage.

Short irrigation cycles to provide optimal growing conditions with highly accessible water and nutrient in controlled wetted and aerated soil profile. In Rainport™ irrigation system, flexible polyethylene tubes are used as a laterals and high performance; low weight plastic sprinklers are connected to these tubes using easily detachable connectors. Sprinklers are fixed on MS riser rods.
Range of Rainport™ Sprinkler Systems

Recommended for irrigation of vegetables, nurseries etc. with Rainport™ system.

Plastic mini sprinkler is the heart of Rainport™. All these sprinklers are specially designed to make it suitable for Rainport™ system.