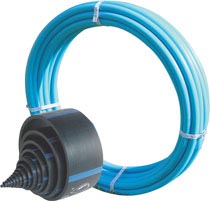 Features and Specifications
Manufactured from HD/MD PE-80 and PE-100 grade blue compounded material, having WRAS certification, specially made for making pipes conveying potable water supply - recommended world over for distribution of potable water under sanitary conditions hence very safe for potable water distribution network and house service connection.
Very smooth inner surface ensures no scaling and choking.
Has less friction loss and gives better flow at lower heads.
Easy to transport and store as the pipes available in 100, 200 and 300 metre coils.
No wastage of pipe as it can be cut to requirement at site.
Less number of joint as the pipe is flexible.
100% leak-proof saving enormous quantity of water wasted in conventional piping system due to corroded leaky joints.
Easy to repair as the pipes are flexible and joiners are with union type joints.
Easy tapping with specialty tapping joints.
Tools-off installation possible with precision made fittings.
Jains Manufacture MDPE - HSC pipes with PE -80 grade raw material of prime quality from internationally renowned suppliers. PE - 80 grade Polyethylene is a versatile and Internationally accepted material for even Gas distribution piping systems.
Applications
Technical Specifications
Material Properties
Distribution Pipe
Safe Drinking Water
Influence of Materials
Selection of Material for Pipe
Comparisin of Jain PE Home-Line pipe with the Conventional GI pipe