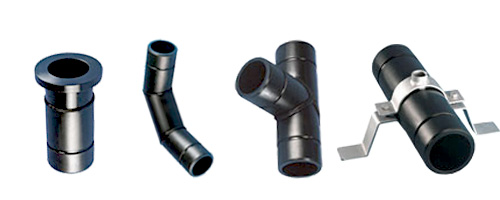 Sure-Loc® HDPE pipes and fittings are an innovative adaptation of Sure-Loc® jointing system to the HDPE pipes. This HDPE pipe system is highly flexible and has the advantage of quick jointing and disjointing. Butt-fusion and socket fusion welding are not only expensive but rigid too, whereas Sure-Loc® HDPE joint combines high tensile strength with flexibility and portability that plays a very important role in transportation of water, effluent, chemical or slurries, in Construction, Mining, Industrial and Agriculture applications.
Jain Sure-Loc® HDPE pipes are manufactured strictly in accordance with ASTM D 3035 out of virgin raw material that conforms to or exceed the performance requirement of ASTM material designation code PE - 3408.
Features and Specifications
Manufactured from high quality virgin HDPE raw material.

Sure-Loc® joint design ensures a positive locking and leak-proof joint.

Resistant to ultraviolet (UV) rays.

Quick to assemble and easy to disassemble for relocation.

Low installation costs.

Light in weight, easy to handle and transport.

Very good abrasion resistance.

All weather installation - suitable for extreme site conditions.

High Impact strength - no damage or crushing problems due to moving vehicles.

Low frictional losses - excellent hydraulics.

Long System Life.

Non-corrosive - resistant to most chemicals and fertilizers.

Smooth inner walls, no scale build up.

Flexibility combined with toughness.

Manufactured as per IS-4984, ISO-4427, DIN-8074, BS-6437 and ASTM D-3035 with the PE-80 grade raw material.

All Sure-Loc® fittings are available and can also be supplied in any other configurations on demand.
Applications
Features and Specifications
Ordering Specifications