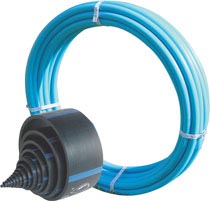 Water Distribution & House Service Connection PE Pipes & Fittings is recommended that Water Utilities providing protected drinking water, to use HD/MD PE-80 and PE-100 grade pipes conforming to ISO 4427/1996 to make the system totally leak-proof and corrosion resistance. It is a well-known fact that the soil in which the pipes are buried, are of corrosive nature, which triggers outside corrosion of the conventional pipes. Added to this, the leakage of electricity from the underground cables as well as spillage of chemicals and contamination of subsoil with leaky sewerage and drainage pipelines add to the galvanic and chemical corrosion of conventional pipes. Dissolved oxygen and chlorine in the treated water accelerate the inside corrosion.
JAIN HD/MD Polyethylene PE-80 grade pipes conforming to ISO 4427 as well as IS 4984 are available up to 1200mm Diameter in all pressure classes as per the standard. Installation of these pipes is easy and the joints are butt-welded joints, which are stronger than the pipe. Tapping for the house service connection is also made very easy with tapping tees and saddles and is totally leak-proof.
Total distribution and house service connection with JAIN HD/MD polyethylene piping system is not only the way to provide the society with safe drinking water but also to save precious drinking water from UFW.