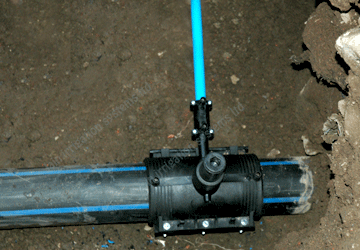 Features and Specifications
Manufactured from tough engineering plastic.
Excellent chemical resistance.
Injection moulded to close tolerance.
Nitrile O ring for positive seal used in ball valves and Polyacetal split rings for positive grip in compression fittings.
Compact design and light weight
The pipeline can be disconnected down stream from the valve, when valve is closed.
Parts replaceable and easily available.
Easy to connect and disconnect from the pipeline.
Pressure Rating - Tested in accordance with ISO-3458 & 3459.
Available in sizes from 20mm to 75mm.
Tapping of Distribution Line for House Service Connection
Typical House Service Connections (HSC)