Jain Jyot Solar Wind Hybrid System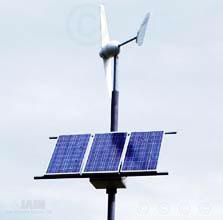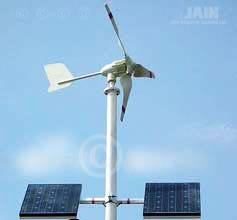 We offer Solar and Wind Hybrid Stree Light Systems as Green Energy Solution. The power source od a wind solar hybrid street lighting system is natural wind and solar radiation. This hybrid system is more cost-effective and reliable in the wind available zone.
The whole system can also be used for home power generation and capacity will depend on load. The hybrid lighting systems are self-sufficient, standalone solutions that do not require the construction of costly mains grid electricity supply infrastructure nor the burden of their associated operating expenses. The systems are ideal solutions for many applications in cities and rural areas, providing lighting to enhance security and safety.
Power generation is dependent on the availabilityof wind and solar radiation.
System output : DC and AC current simultaneously, and a wide voltage range
Automatic system operation
Wind Turbine can be from 300W to 4200W in the wind velocity range of 3.1 m/sec to 15 m/sec.
System consists of Luminaries, Lighting pole from 5M to 30M height, Deep Cycle Tubular Lead Acid Battery, Solar Panels, etc.
The Lighting Fixture available in different type, lighting bulb in different Lumen flux